Everybody knows that Rajasthan is famous for its culture.There are top 7 Rajasthani Dance you must know.Rajasthan is known as 'the land of kings', is the largest state of India.It is surrounded by many mountain ranges.There are many forts in Rajasthan.Hills forts of Rajasthan , Jaissalmer Fort , Amer Fort and Janter manter is also very famous here.Rajasthan also famous for there festivals and fairs. Rajasthani Dance which are in top like Ghoomar,Kalbelia,Chari,Kathputli,Terah talli,Kacchi Ghodi and Fire dance.
Performing arts of Rajasthan:
The various performing arts of Rajasthan are:
1.Puppet show
Kathputli is a string puppetry native to Rajasthan and is the most famous form of Indian puppertry. 'Kath' means 'wood' and 'Putli' means 'middle part of eye'.It is performed by puppets attached to the strings and dances according to the will of puppeteer.The Kathputli form narrates the folk tales and stories of Rajasthan.Puppet show now a days becomes very popular in birthday parties.Children are enjoyed this show very much.
2.Kalbelia Dance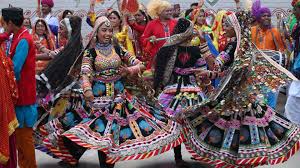 It is one of themost dances of Rajasthan,performed by the Kalbelia snake charmer community.It is also known as Sapera dance. In kalbelia dance,male play various instruments and female performs dance.The sapera dancers wear black dress with long black skirts with silver ribbons.
There are many songs on Kalbelia dance are:
O Mhari Ghoomar Che Nakhrali
Oh Kesario Hazari Gul Ro Phool
Maro Assi Kali Ko Ghagro
Kesariya Balam Aao Ni
Padharoo Ni Moray Desh
Kaliyo kud padiyo mele me
Ara ra ra ra
3.Ghoomar Dance
This is basically a dance performed by only women.This is simple dance.The women wearing ghagra twirl in circles,their faces coverd by the veil. The traditional dance is performed during the weddings and festivals of Rajasthan.Also a newly married bride is performed Ghoomar as one of the rituals.There are many songs of Rajasthani ghoomar dance are:
Naina Ra Lobhi
Ghoomar ghoomar
Talariya magariya
Hichki
Chirmi
Charkha
4.Chari Dance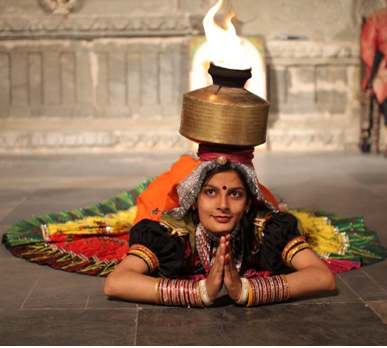 This famous dance is performed by females only.In this dance form, dancers balance brass pots on their heads and to make performance.In such a state ,the dancers perform several flexible and graceful movements of the body.This dance is performed on occastions like birth of a child and weddings.
5.Fire Dance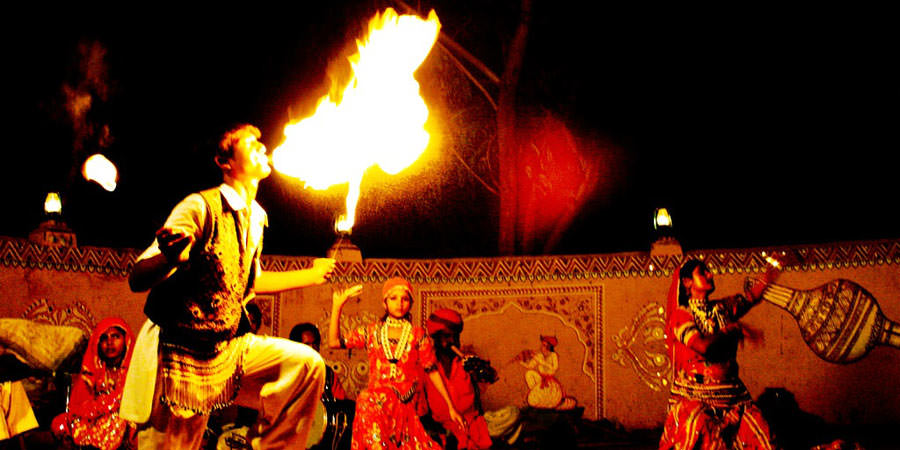 This dance is performed with live wood and charcoal where men jump on to the fire to the drum beats.
6.Terah Thali Dance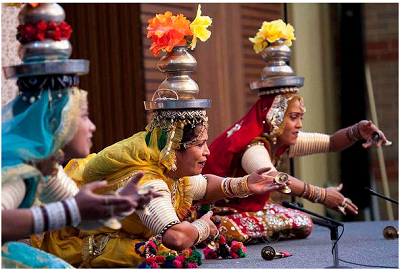 This dance is also performed by the females only.In this musical dance,the dancers have manjeeras /thali tied on their waist,legs,hands and forehead, at least thirteen places on thier body.Thir male sing and play the four stringed instrument called a CHAU-TARA.The women play and dance on manjeeras.This is the one of the famous dance of Rajasthan.
7.Kacchi Ghodi Dance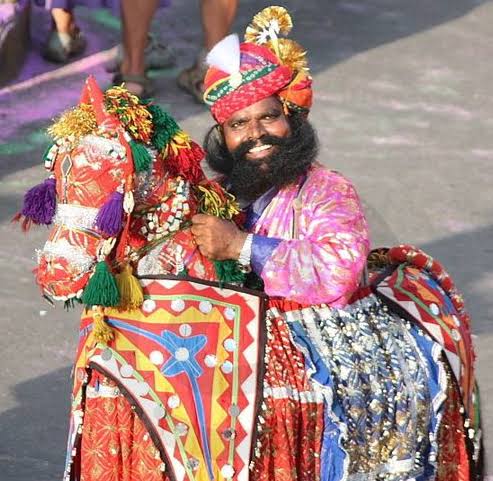 The Kachi Ghodi Dance In Rajasthan India is performed on dummy horses. Men in elaborate costumes- red turbans and dhotis and kurtas ride the well-decorated dummy horses. Bankiya and thali (round metal plate). Kachi Godi of Rajasthan is a famous folk dance full of zest and colors.It is mostly used for welcome guest in events.People really enjoyed that dance.
THANK YOU…..